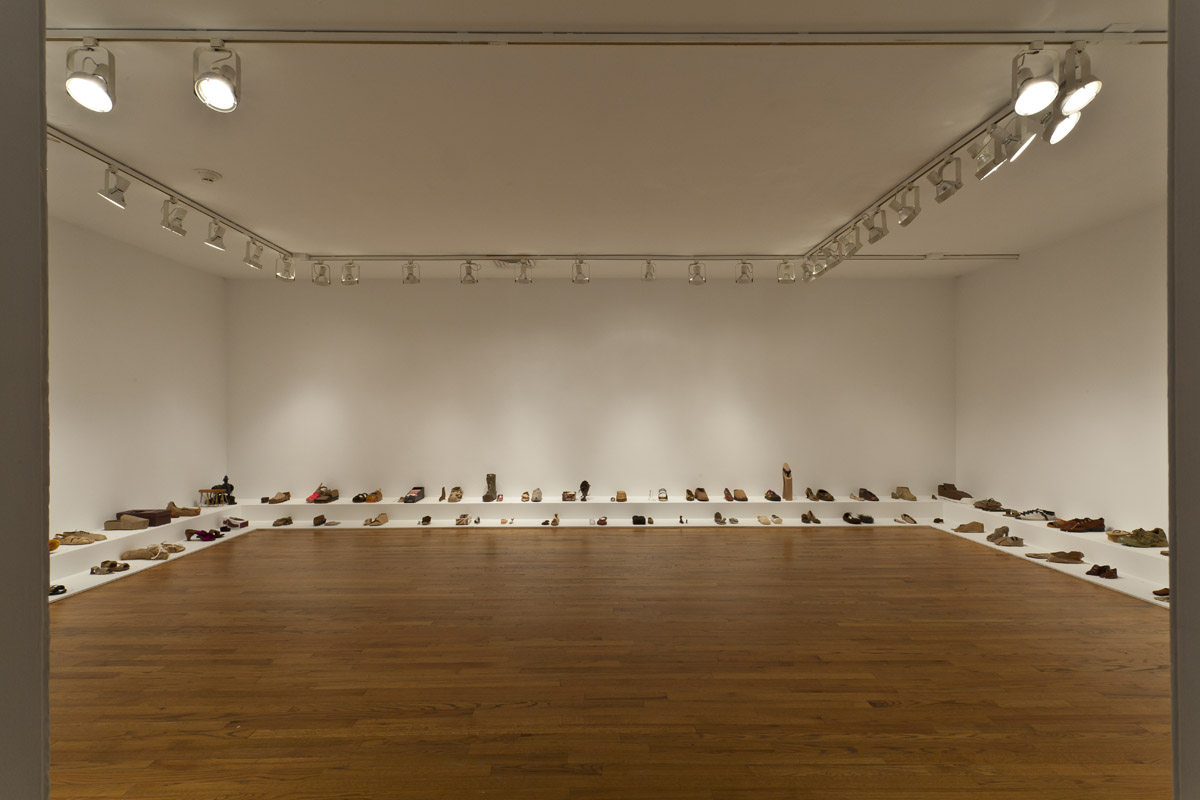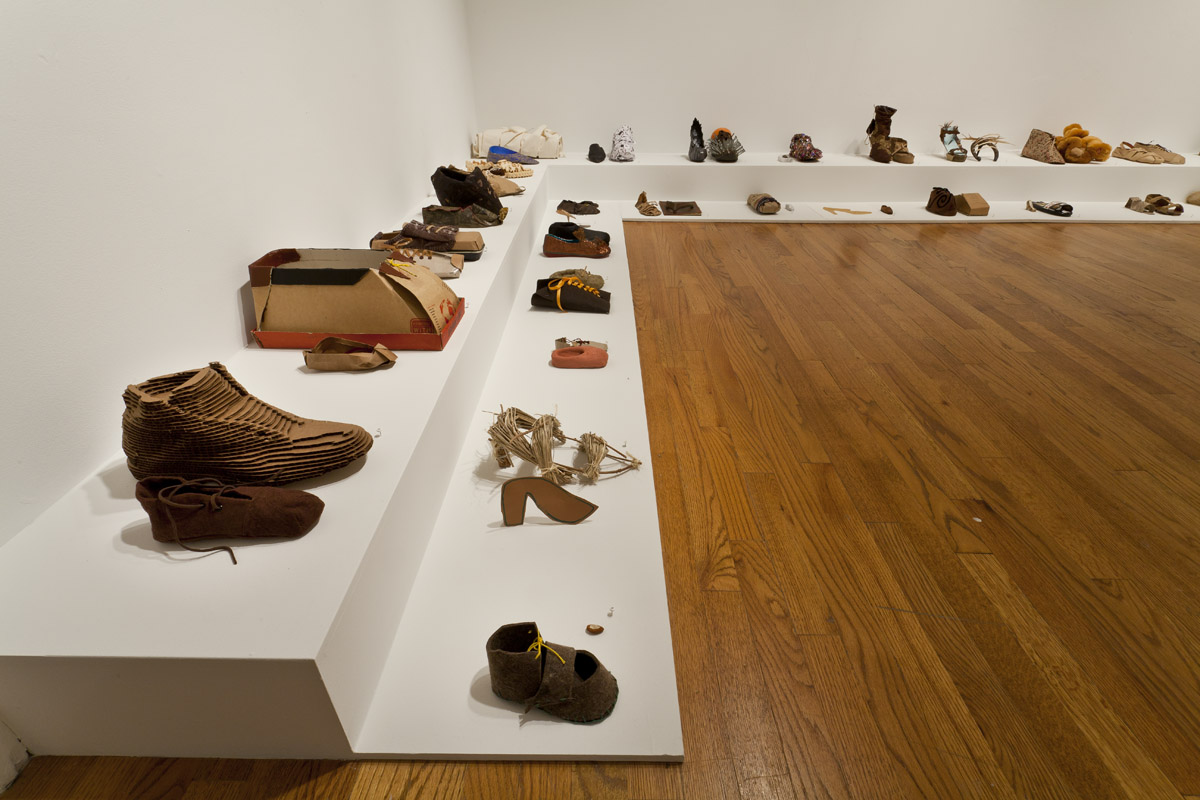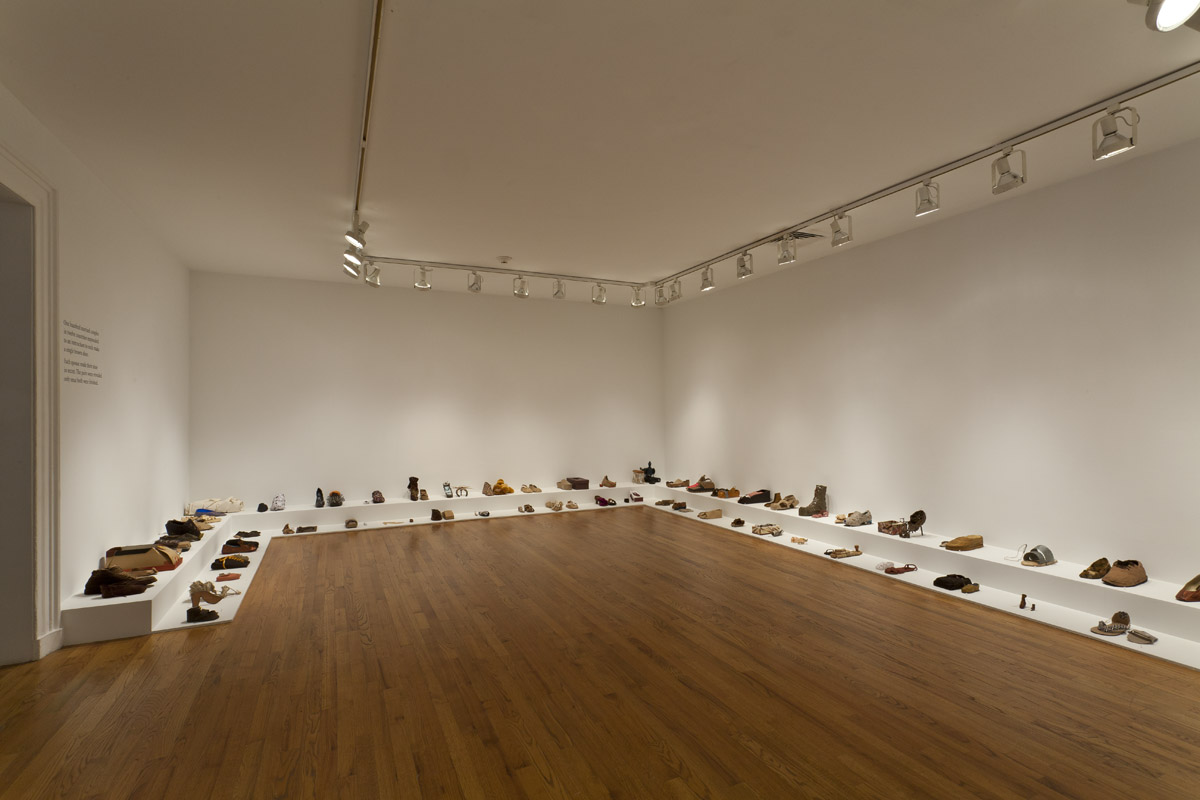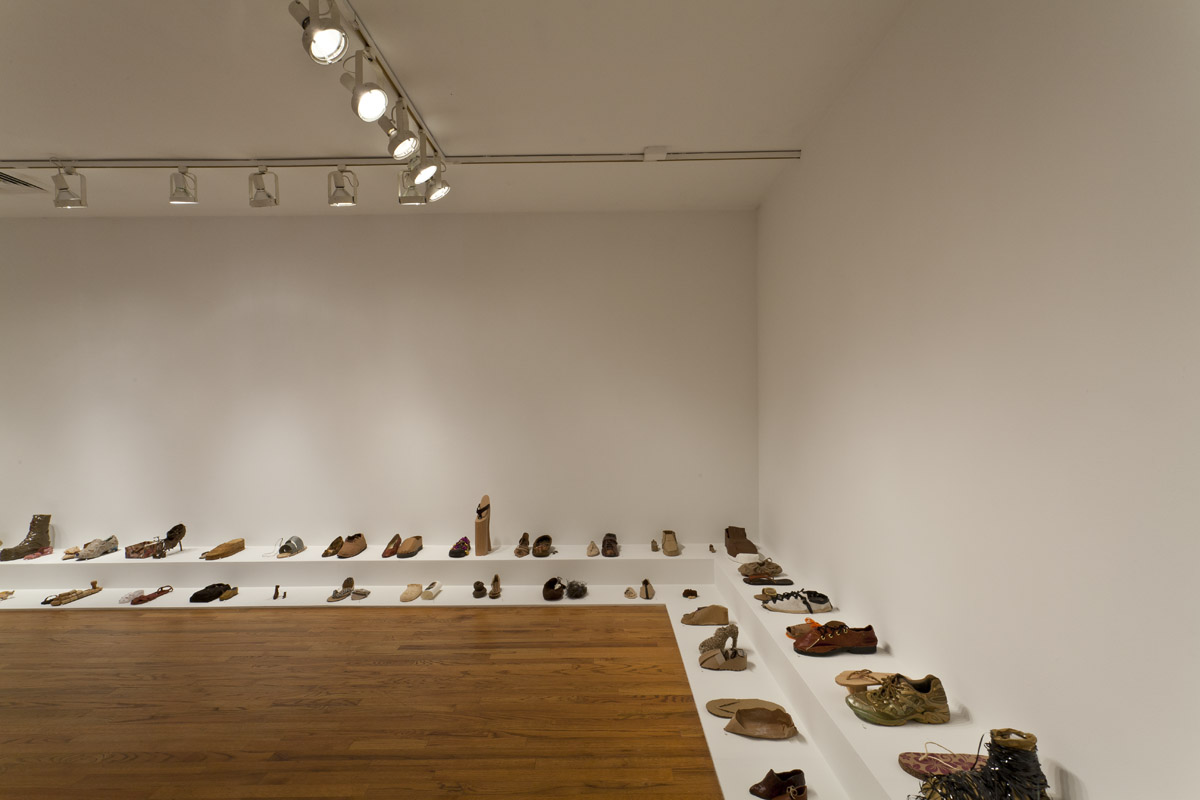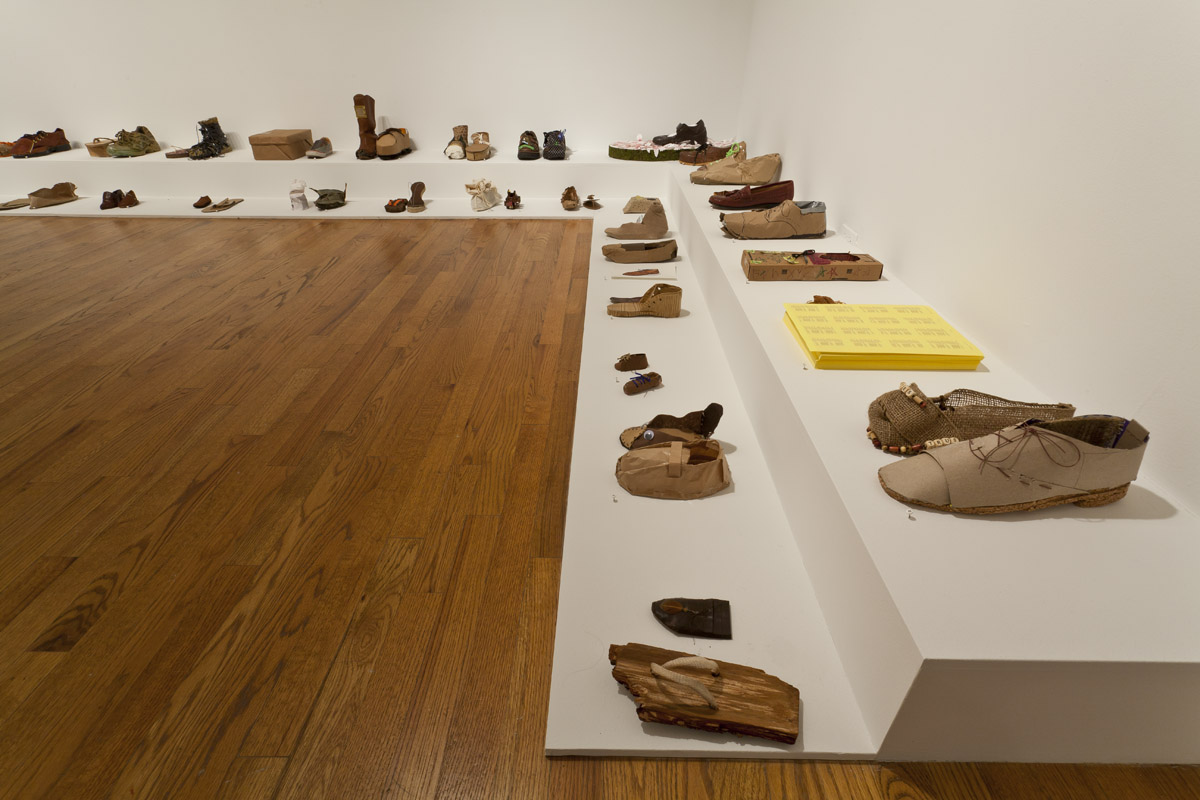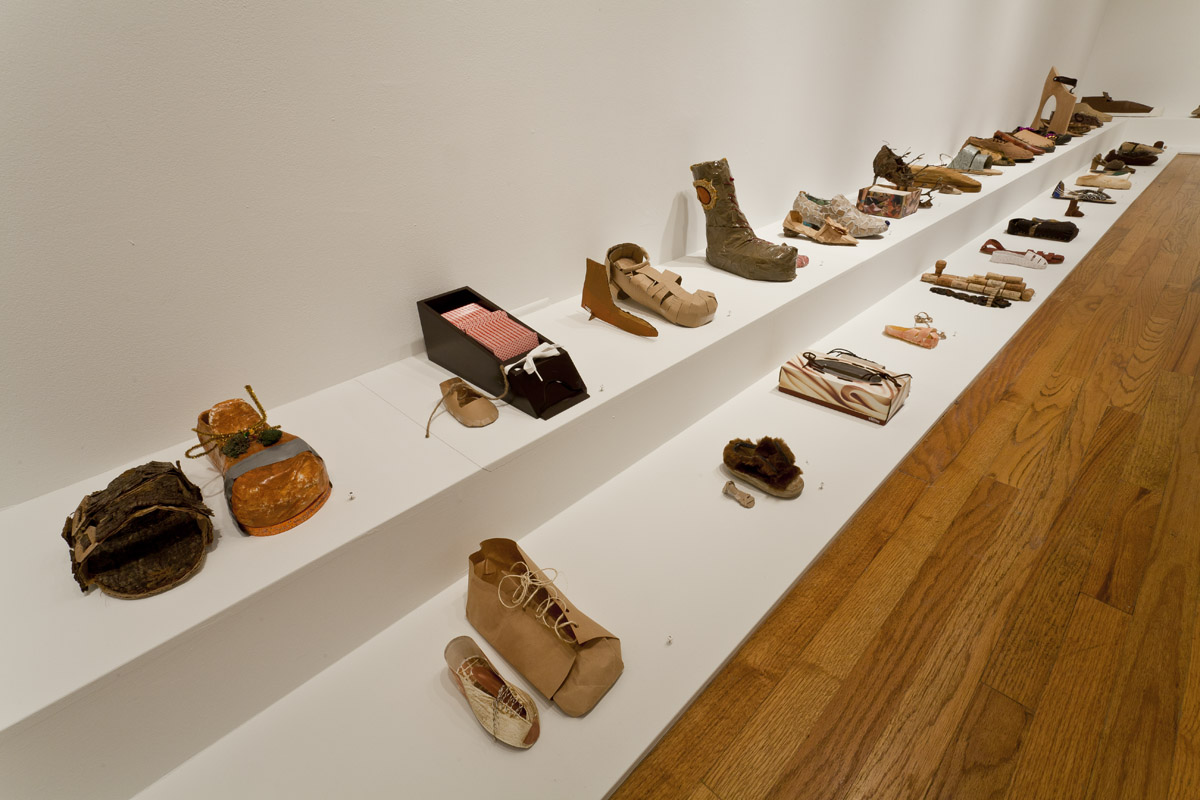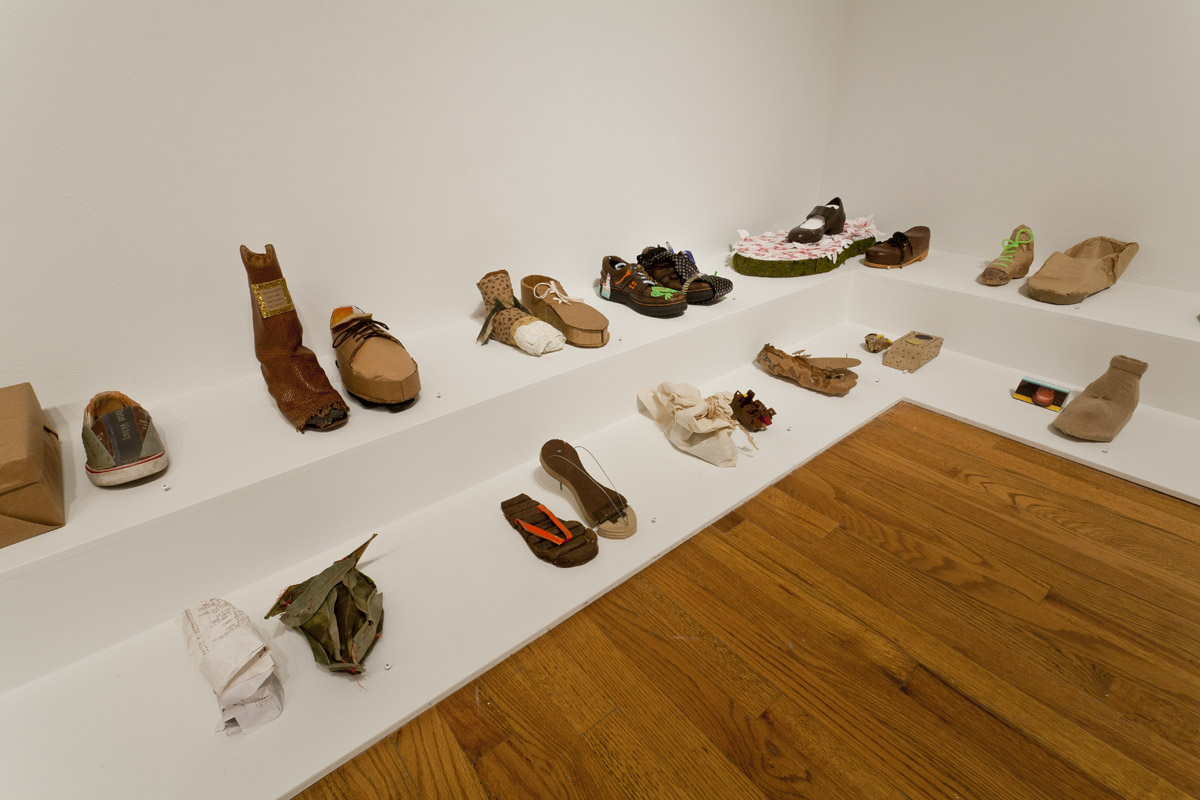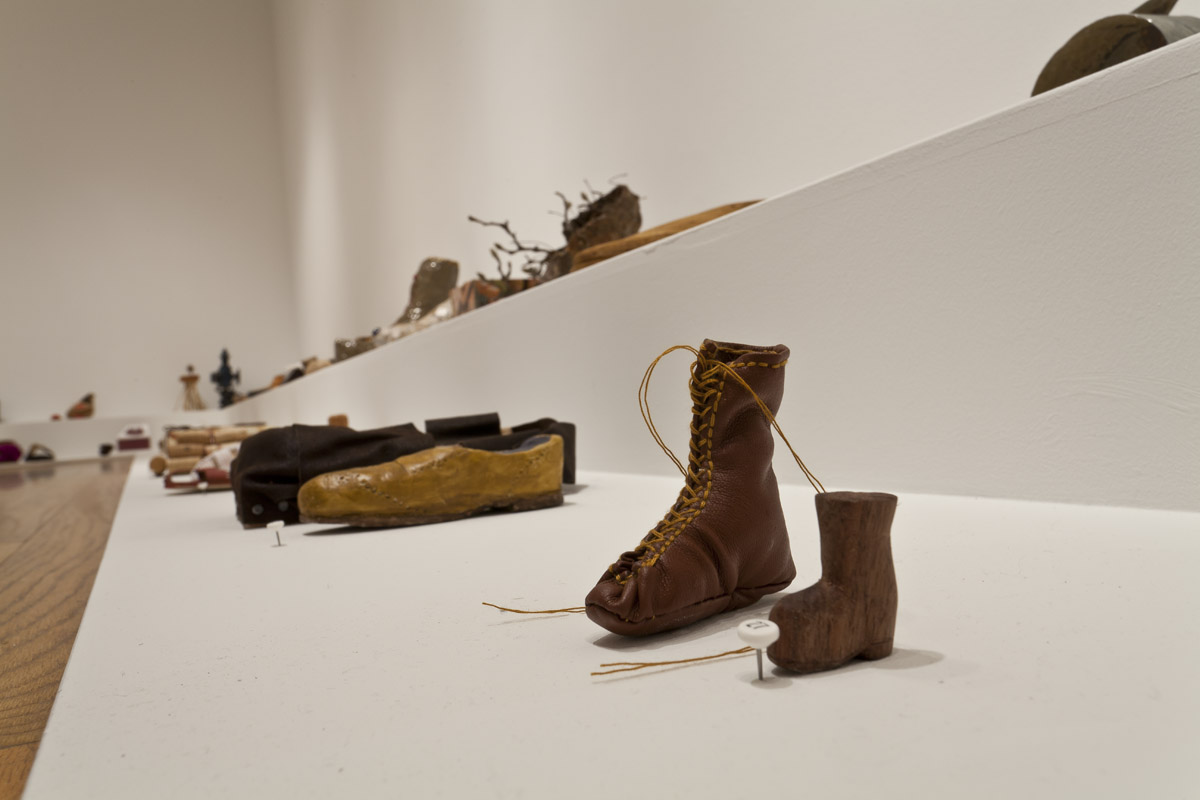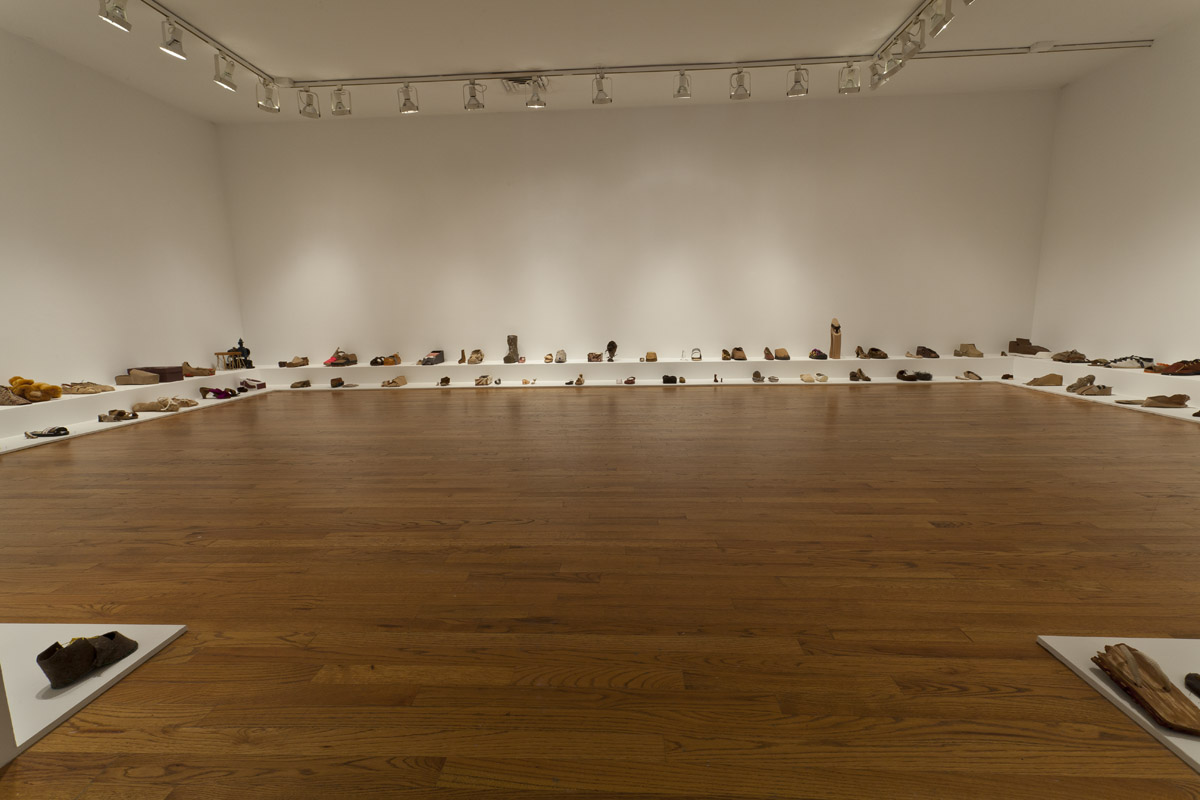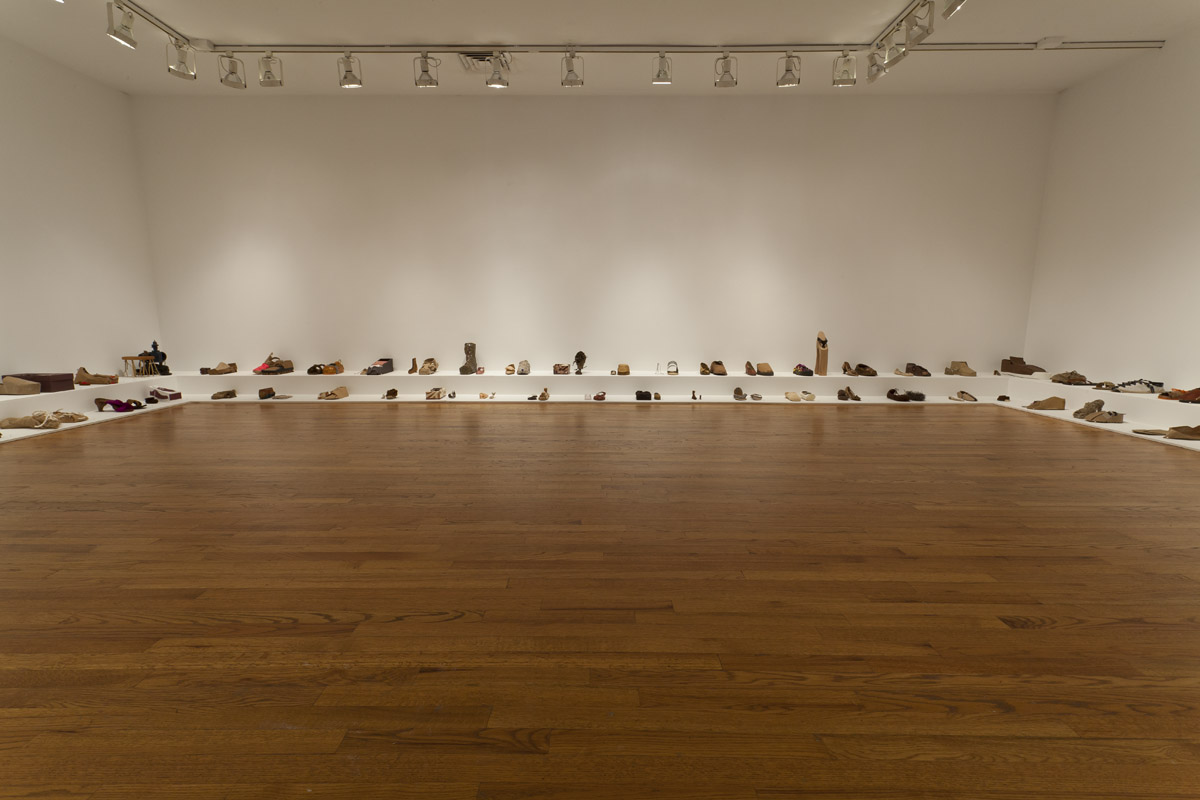 One Brown Shoe
2013 / various materials including parcel paper, cat food boxes, Play-Doh, CAD code, string, leather, food remnants from the dishwasher, leather, string, cardboard, brown paper, office supplies, plate steel, Cuban cigars, animal crackers, packing tape and hair, knitting, nut shells / photos: Tom Little
One hundred pairs of mismatched, hand-made brown shoes, made in secret by married couples around the world.
In 2013, one hundred married couples in twelve countries responded to an instruction to each make a single brown shoe using materials found around their homes. They were asked not to discuss the project with their partners and to make their shoe in secret. The shoes were revealed only once both were completed.
Made from cat food boxes, packing tape, knitting, childhood sneakers, stolen office supplies, plate steel, Cuban cigars, animal crackers, nut shells, and a thousand other odds and ends found in the house, each pair of shoes might be seen as a portrait – of two individuals, of one couple, and of the difference between the two.
A portable exhibition (beautiful boxed catalogie of double-sided cards) for this project is available here.
Made during An Artist Residency in Motherhood. Exhibited at Pittsburgh Center for the Arts, 2013.
shoes made by: Erin Anderson / Felipe Castelblanco, Jennifer Nagle Myers / Daniel Luchman, Moyra Davey / Jason Simon, B A / D G, Andy Kubis / Dan Kubis, Liz Tjepkema / Zack Kline, Jessica Langley / Ben Kinsley, Zussa / Hannes, Angela Seals / David Seals, Hannalie Taute / Hendrik Carsten, Jill Hawkins / Al Hawkins, Angie To / Brett Hunter, Megan Lykins Reich / Daniel Reich, Dana Sherwood / Mark Dion, Mrs Wales / Mr Wales, Jamie Sprague / Matt Sprague, Robyn Pierce / Lucy Pope, Anna Redcay / Isaac Bower, Michele / Hans, Wendy Byar / Peter Byar, Susanne Slavick / Andrew Ellis Johnson, Kimberly Clayton / Ben Clayton, Nan Coffin / Richard Burkett, Manya / Clay, Kari / Nate, Valerie Lueth / Paul Roden, Andrea Gill / John Gill, Judi Roth / Jan Maczka, Margaret Ellen Di Giulio / Chris Lord, Gay Weller/ Sam Weller, Rachel Bonnet / Ian Bonnet, 33 Megan Ward / Steve Van Tuyl, Patricia Bellan-Gillen / Vince Gillen, Ashley Florence / Luke Waldron, Sandy / Ben, Claire Marcus / Daniel Marcus, Jill Anne Farringdon / Jonny Farringdon, Reiko Yamamoto / Aaron Henderson, Pat Anderson / Curt Anderson, Amber Brien / Jordan Brien, Carole Filangieri / Jim Santo, Barb Bronder / Tom Bronder, Debra Tomson Williams / Pete Williams, Molly / Piotr, Jessica Archer / Alex Barber, Margrit / Vincent, Jenny Katz-brandoli / Eric Brandoli, Ella Ritchie / Sam Jones, Jessica Campbell / Darrell Moore, Caroline Breen Thorn / Stuart Thorn, Jennifer Earle / Mike Gabel, Mariah Dekkenga / Michael Perrone, Karolin / Daniel Bräg, Amy Newman / Barry Newman, Nicole Donnelly / Ellie Goudie-Averill, Lee Parker / Greg Parker, Kilolo Luckett / John Barbera Jr, Lin Clark / David Bernabo, Michelle Poole / Tom Poole, Heather Montano-Jarrett / David Montano, Emily / Jeremy, Mary Molinaro/ Joe Molinaro, Bettina Springer / Cem Arnold Süzer, Mandy Wolovich / Brian Wolovich, Tessa Windt / David Tinapple, Cathryn Burge / John Faithfull, Jessica Awanohara / Hirohisa Awanohara, Judith / Matthew, Carol Kumata / Jon Beckley, Joy Katz / Rob Handel, Irene / Aurelio, Lisi Roncato / Peter Thompson, Duda / Jim B, Shelley / Lester, Joy Hill / Steve Hill, Stacza Lipinski / Luke Albrecht, Nerys Mathias / Andrew Edwards, Mary Robertson / Lance Winn, Margaret Jack / Marvin Jack, Polina Malikin / Paul Sturtz, Jill Miller / Eric Paulos, Lily Wolf / Dale Inglett, Chantal Deeble / Terry Jackson, Claire Didier / Daniel Beaulieu, Ro / Nik, Elly / Andrew Fisher, Jessica Taylor Taraski / Adam Shepard, Jen Sondheim / Ray Illian, Anne Shields Hopkins / Rafi Hopkins, Jane Seyler / Elmer Craig, Michele Adams / Jim Adams, Sallie Hernandez / Alan Morrison, Pekora Cereja / Luke Brady, Carin Mincemoyer / Keny Marshall, Heather Weston / Peter Daley, Susan Dreier / Tim Dreier, Gemma / Nick, Burkhalter / Baumann, Lenore D Thomas / Mark Hayward, Lenka Clayton / Seth Payne.